Blue Creek Apartments
Talk

2
2,111pages on
this wiki
The interior of the apartment complex
Appearances
Silent Hill 2
Blue Creek Apartments is a small apartment building in Silent Hill 2, built next to the Wood Side Apartments. The fire escape of the Wood Side Apartments was knocked down to make room for the Blue Creek Apartments. Access to the third floor is completely blocked off.
James Sunderland goes into these apartments for his second encounter with Angela Orosco and Pyramid Head. It is here that he sticks his hand down a filthy toilet, a small joke in the series. He will find a memo with a code on it that gives the player access to a safe, which contains five sets of handgun bullets. The Coin Puzzle can be found in a first floor room of this apartment containing the Lyne House Key.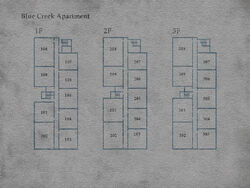 Access to these apartments can be found through the fire escape of the Wood Side Apartments and also in a small area located behind the Baldwin Mansion. Maria comes to the apartments to retrieve the White Chrism in the Born from a Wish scenario. The Blue Creek Apartments also exit to an alleyway that leads directly to Rosewater Park.
Trivia
Whisper

The whisper heard in Room 209.
Gallery