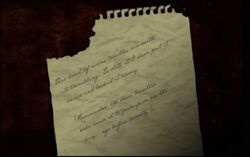 The Bloody Note is found in the Otherworld version of Alchemilla Hospital in Silent Hill: Origins. Travis Grady finds it in Room 204, alongside a locked medical box. The note acts as a clue to solving a puzzle, allowing Travis to obtain a plastic heart needed to complete the Anatomy Puzzle.
Transcript
"This heart of mine troubles me

with its trembling! To still it I have

put it on ice and locked it away.


(Remember, the three beauties who

cause it to pump so are the key,

"age before beauty")"
Ad blocker interference detected!
Wikia is a free-to-use site that makes money from advertising. We have a modified experience for viewers using ad blockers

Wikia is not accessible if you've made further modifications. Remove the custom ad blocker rule(s) and the page will load as expected.