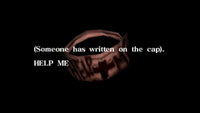 The Bloody Cap (a note written on a bottle cap) is one of multiple anonymous memos found on random objects scattered throughout town in Silent Hill: Origins, located within The Family Butcher.
It is unclear who wrote this note; possibly a victim of (or it may be simply a reference to) the Butcher, since it was found in the butcher shop.
Transcript
"(Someone has written on the cap.)

HELP ME."
Ad blocker interference detected!
Wikia is a free-to-use site that makes money from advertising. We have a modified experience for viewers using ad blockers

Wikia is not accessible if you've made further modifications. Remove the custom ad blocker rule(s) and the page will load as expected.