Ad blocker interference detected!
Wikia is a free-to-use site that makes money from advertising. We have a modified experience for viewers using ad blockers

Wikia is not accessible if you've made further modifications. Remove the custom ad blocker rule(s) and the page will load as expected.
"
The only me is me. Are you sure the only you is you?
— The Bloodied Bag talking.
"
Bloodied Bag is a strange object from P.T.
Appearance
It seems to be just an average brown bag, placed on the table in the room where the player begins. The bottom of it appears to be soaked with blood. From the P.T. interactive teaser trailer, the bottom of the bag is swarmed with cockroaches. The bag can speak and when it speaks something moves inside, so it might be possible that it has a human head which is about a size of Baby's head within the bag that is somehow still animate and alive, which may explain why the blood at the bottom of the bag is not soaked and leaking.
Character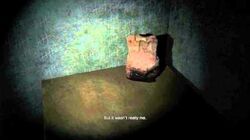 It is not hostile. Upon approaching the bag, what is probably its contents will speak to the player. It speaks cryptically, warning the player of "a gap in the door" and asks the player if they're sure "the only you is you".
Symbolism
It is unknown what the Bloodied Bag actually represents. Its only known purpose is talking to the protagonist.
The Bag mentions that "he" sees another "him" that isn't actually "himself". This could relate to the Silent Hills title and theme about multiple parallel universes. Evidence to this possibility is later shown in his next quote: "Watch out. The gap in the door... It's a separate reality. The only me is me. Are you sure the only you is you?" This raises the question of whether or not the Bloodied Bag is a being from another world.
Trivia
The Bloodied Bag is one of the few monsters that are conscious and can speak in their monstrous forms, the others being Mary, the Prisoners, Leonard Wolf, the Steel Guardian, the Twin Victim, the Bottom, the Prisoners, Momma, Monocle Man, Alessa, Lucas, Ben and Karen.
Gallery