Ad blocker interference detected!
Wikia is a free-to-use site that makes money from advertising. We have a modified experience for viewers using ad blockers

Wikia is not accessible if you've made further modifications. Remove the custom ad blocker rule(s) and the page will load as expected.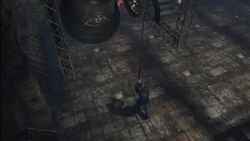 This article is a guide for a Silent Hill: Downpour puzzle.
The Bell Puzzle is found in Silent Hill: Downpour, encountered by Murphy Pendleton in St. Maria's Monastery's Otherworld. There is only one method for all three difficulties with the same solution every time.
Solution
After Murphy jumps from the balcony, there is a room with a stage covered by a curtain. If he goes to the left, there will be a room with mannequins leading to another room with candles. Picking up the blue candles will cause two Dolls to spawn, one being in the room with the large painting and the latter will be on a pile of boxes, thus making throwing weapons the only method to kill her. On the other side of the main room, there will be a staircase leading up to a control room. There are two levers: one opening the curtain, the other bringing down a chandelier. Pull both down, but the chandelier contains a Prisoner Minion which will need killing or evading. Put the candles onto the chandelier and light them with the lighter, then go back and raise the chandelier. A pattern will appear above the stage now (eye, eye, Halo of the Sun, grass, eye); take note of the symbols and proceed through the mini-stage maze and Murphy will reach three bells with symbols. Ring them according to the previous pattern:
Ring the left bell. (Eye)
Ring the left bell. (Eye)
Ring the center bell. (Halo of the Sun)
Ring the right bell. (Grass)
Ring the left bell (Eye)