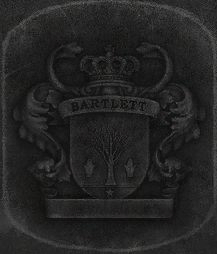 The Bartlett Family is one of the four founding families of Shepherd's Glen from Scotland. They were given the duty of Executor of Law and were to sacrifice their children to the earth by burying them alive. This is done to maintain the pact held with the Order and their god.
Emblem
"
In defense of The Tenets, it is necessary that one person preside over the punishments of any members who have fallen from the Path. These rulings must be based on complete understanding of the laws set forth and must be executed without prejudice. The Executor of Law must not waive in the responsibility of enacting this power, he must declare his oath, in public forum, to uphold the ideals of The Book. In God's Name, so shall it be.
"
The Bartletts' emblem depicts a crown. This could relate to the royalty of the Bartlett family in Shepherd's Glen and how Sam Bartlett ran for mayor completely unopposed. It also depicts a tree, related to the method of sacrifice to the earth. Joey Bartlett's boss form Sepulcher also resembles a tree.
Members
Mason Bartlett (1819 - 1874)
Helen Bartlett (1851 - 1853) - daughter of Mason
Lydia Bartlett (1872 - 1894)
Ephraim Bartlett (???? - ????)
Lois Bartlett (married into family, wife of Ephraim) (1877 - 1896)
Charles Bartlett (???? - 1903)
Henry Bartlett (???? - 1916)
Mary Bartlett (married into family, wife of Henry) (1893 - 1917)
Caleb Bartlett (son of Henry and Mary) (1911 - 1917)
Horace H. Bartlett (1905 - 1934)
Patricia Bartlett (???? - 1953)
Sam Bartlett (1958 - 2007)
Joey Bartlett (son of Sam) (1994 - 2003)
See also