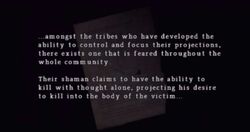 Astral Projection: The Perfect Assassin? is a torn page from a book, found in Silent Hill: Origins. Travis Grady can locate it along with another torn page in the library scene on the first floor stage of the Artaud Theater's Otherworld.
Transcript
"....amongst the tribes who have

developed the ability to control and

focus their projections, there exists

one that is feared throughout the

whole community.


Their shaman claims to have the

ability to kill with thought alone,

projecting his desire to kill into the

body of the victim..."
Ad blocker interference detected!
Wikia is a free-to-use site that makes money from advertising. We have a modified experience for viewers using ad blockers

Wikia is not accessible if you've made further modifications. Remove the custom ad blocker rule(s) and the page will load as expected.