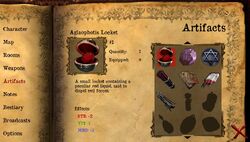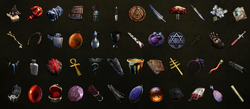 Artifacts are items that can be equipped to the protagonist in Silent Hill: Book of Memories, and increase/decrease the player's statistics, depending on the artifact. There are 50 in the base game, and an extra 14 in the Expansion Pack.
Most artifacts can be purchased with Memory Residue from Howard's Shop; however, some are offered as reward items for completing missions for Valtiel.
List of Artifacts
Base game
Expansion Pack
External links
Ad blocker interference detected!
Wikia is a free-to-use site that makes money from advertising. We have a modified experience for viewers using ad blockers

Wikia is not accessible if you've made further modifications. Remove the custom ad blocker rule(s) and the page will load as expected.