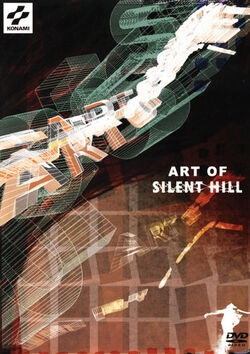 Art of Silent Hill is a non-interactive DVD containing trailers, special videos, arts and other images mainly from Silent Hill 2 and also Silent Hill. It was released in 2001.
Art of Silent Hill
Creature
Fukuro
Pictures (32 pictures - arts and sketches of SH1-2 creatures)
Trailer
TGS 2000 Autumn
TGS 2001 Spring
E3 2001
SH Opening
SH2 Opening
Collection
UFO End
Marketing Materials (16 pictures - designs of SH2 packages and posters)
Pictures (26 pictures - miscellaneous SH2 artworks)
Ad blocker interference detected!
Wikia is a free-to-use site that makes money from advertising. We have a modified experience for viewers using ad blockers

Wikia is not accessible if you've made further modifications. Remove the custom ad blocker rule(s) and the page will load as expected.