Ad blocker interference detected!
Wikia is a free-to-use site that makes money from advertising. We have a modified experience for viewers using ad blockers

Wikia is not accessible if you've made further modifications. Remove the custom ad blocker rule(s) and the page will load as expected.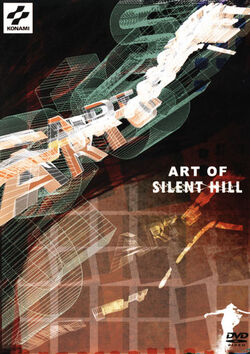 Art of Silent Hill is a non-interactive DVD containing trailers, special videos, arts and other images mainly from Silent Hill 2 and also Silent Hill. It was released in 2001.
Art of Silent Hill
Creature
Fukuro
Pictures (32 pictures - arts and sketches of SH1-2 creatures)
Trailer
TGS 2000 Autumn
TGS 2001 Spring
E3 2001
SH Opening
SH2 Opening
Collection
UFO End
Marketing Materials (16 pictures - designs of SH2 packages and posters)
Pictures (26 pictures - miscellaneous SH2 artworks)