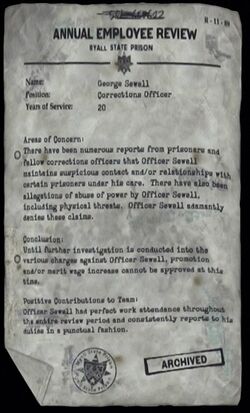 The Annual Employee Review is a memo found in Silent Hill: Downpour. It is located in the vault room on the second floor in the archives section of the Centennial Building. It can be found using a forensic flashlight on a bookcase in the left-hand corner of the room. This report relates to George Sewell, a corrections officer at Ryall State Prison, highlighting his possible elements of corruption due to his suspicious contact and/or relationships with certain prisoners under his care. However, the report continues on to merit his commendable, public duty.
Transcript
Ryall State Prison
Name: George Sewell
Position: Corrections Officer
Years of Service: 20
Areas of Concern:
There have been numerous reports from prisoners and fellow Corrections Officers that Officer Sewell maintains suspicious contact and/or relationships with certain prisoners under his care. There have also been allegations of abuse of power by Officer Sewell, including physical threats. Officer Sewell adamantly denies these claims.
Conclusion:
Until further investigation is conducted into the various charges against Officer Sewell, promotion and/or merit wage increase cannot be approved at this time.
Positive Contributions to Team:
Officer Sewell had perfect work attendance throughout the entire review period and consistently reports to his duties in a punctual fashion.
Ad blocker interference detected!
Wikia is a free-to-use site that makes money from advertising. We have a modified experience for viewers using ad blockers

Wikia is not accessible if you've made further modifications. Remove the custom ad blocker rule(s) and the page will load as expected.