Illustrator(s)
Tristan Jones
Release date
November 12, 2014
Anne's Story, Issue 3 is the third issue for the Silent Hill comic Anne's Story published by IDW Publishing. It is written by Tom Waltz and illustrated by Tristan Jones.
The plot is focused on Anne Marie Cunningham and her perspective during Silent Hill: Downpour, rather than Murphy Pendleton.
In this issue of Anne's journey through Silent Hill, Anne relives her dark memories. It also reveals the fate of Anne and DJ Ricks after their sudden disappearance at the radio station.
Plot
Anne, now in front of a thrift shop, heard the voice of DJ Ricks sending another "dedication" to Murphy Pendleton through a radio. He also wished Murphy to meet him by person and to know his secrets. As he said that he knew a way out of town.
She experienced a flashback during her time with Warden Leonard B. Trent and the death of her father, which angered her husband, due to her actions. She protested his complaints by saying that she could fix the problem.
However, a supposedly 'statue' Doll jumped out of the thrift shop's front window, attacking her. Anne grabbed a broken shard of glass and killed her, revealing a Prisoner Minion behind the Doll. Anne then grabs a baseball bat, hitting him hard in the face. Throughout the attack, Anne was haunted by the words of Warden Trent.
She experienced another flashback, when George Sewell called her that he got Murphy and he was said to be on a transfer to Maximum Wayside Prison in two weeks. Her anger elevates as she heard the name Murphy, as she wanted revenge on his actions towards her father.
As the rain starts, Anne heard another broadcast from a radio, but this time, from a car, with DJ Ricks wanted help and will be waiting at the radio station. Suddenly, a bloody corpse of a bull dropped from the car. The manifestation of her father's memories was suddenly behind her. Anne, with shock asked her father who killed this animal. However, an unknown monster resembling Incubus stabbed her with its horns.
Expecting her death, she woke up in the radio station, where she heard Murphy and DJ Ricks discussing a way out of Silent Hill. She bashed through the radio station, which shocked both Murphy and DJ Ricks in the process. She wanted DJ Ricks to gave her the phone, only to have the line went dead. In a sudden, several Screamers raided the radio station, which Murphy is the only one left in the radio station.
Meanwhile, Anne and DJ Ricks found themselves in a large hanging cage, in front of the clock of the Centennial Building, with an unknown shadow on it.
Trivia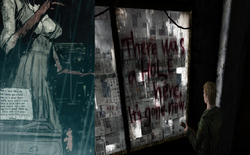 At the beginning of the comic, on a 'statue' Doll in the thrift shop was a note. One can read the famous phrase from Silent Hill 2, "There was a hole here, it's gone now".
Anne is seen wearing the Nurse Uniform in one of her flashbacks.
The end of the comic confirmed that DJ Ricks was still alive after the Screamers' raid in the radio station together with Anne.
Gallery
Ad blocker interference detected!
Wikia is a free-to-use site that makes money from advertising. We have a modified experience for viewers using ad blockers

Wikia is not accessible if you've made further modifications. Remove the custom ad blocker rule(s) and the page will load as expected.