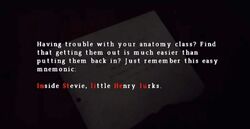 The Anatomy Mnemonic is a note found in the Otherworld version of Alchemilla Hospital in Silent Hill: Origins. Travis Grady can locate it in the second floor's ladies restroom. The note is a clue to the Anatomy Puzzle.
Transcript
"Having trouble in your anatomy class?

Find that getting them out is much easier than putting them back in?

Just remember this easy mnemonic:


Inside Stevie, little Henry lurks"
Ad blocker interference detected!
Wikia is a free-to-use site that makes money from advertising. We have a modified experience for viewers using ad blockers

Wikia is not accessible if you've made further modifications. Remove the custom ad blocker rule(s) and the page will load as expected.