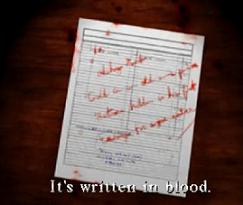 Alchemy laboratory is a note written in blood that Harry Mason can find at the reception area of Midwich Elementary School in Silent Hill. It gives the clue to find a gold medallion that is needed to solve the Clock Tower Puzzle.
Transcript
"10:00

Alchemy laboratory


Gold in old man's palm.

The future hidden in his fist.


Exchange for sage's water."
Ad blocker interference detected!
Wikia is a free-to-use site that makes money from advertising. We have a modified experience for viewers using ad blockers

Wikia is not accessible if you've made further modifications. Remove the custom ad blocker rule(s) and the page will load as expected.