Location
Lighthouse Clinic
Appearances
Silent Hill: Shattered Memories
Adam is the last memento found in Silent Hill: Shattered Memories. Harry Mason finds it in inside the Lighthouse Clinic inside a model of a head in the clinic's reception area. The memento is the second half of another memento, "Eve". This half of the locket contains a picture of Harry and has the words "Never Forget" written on it. The other half contains a picture of Dahlia Mason, Harry's wife, and has "True Happiness" written on it. In the Wii version of the game, the words "True Happiness" appear in the locket's surface when it's directed against light; this is probably due to a glitch.
Symbolism
This memento represents that Harry has come to the end of his journey, and has discovered who he truly is. "Never forget" represents Cheryl Mason's inability to forget Harry, thus creating a false memory of him. This is supported by the memento being found inside a model of a head.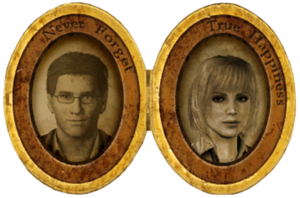 Ad blocker interference detected!
Wikia is a free-to-use site that makes money from advertising. We have a modified experience for viewers using ad blockers

Wikia is not accessible if you've made further modifications. Remove the custom ad blocker rule(s) and the page will load as expected.