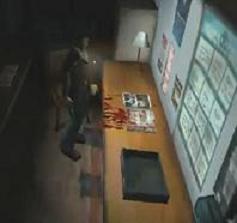 A Place With Songs and Sound is a memo written in blood on an open book that Harry Mason can find in the reception area of Midwich Elementary School in Silent Hill. Along with two other memos found in the same area, it composes the first clues to the Clock Tower Puzzle.
Transcript
"12:00


A place with songs and sound.

A silver guidepost is

untapped in lost tongues.

Awakening at the ordained order"
Trivia
In the demo version of Silent Hill, the photos in the left page of the book were different, with one picture appearing to be from the film Natural Born Killers [1] and the second from Pulp Fiction [2]. This could have been one of the many film references that can be found in Silent Hill.
Gallery
Ad blocker interference detected!
Wikia is a free-to-use site that makes money from advertising. We have a modified experience for viewers using ad blockers

Wikia is not accessible if you've made further modifications. Remove the custom ad blocker rule(s) and the page will load as expected.