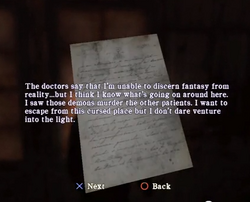 A Patient's Note is a memo found in Silent Hill: Homecoming in the Otherworld version of Alchemilla Hospital. It is located by a stairwell leading to the third floor and warns of monsters and how best to avoid them. The fate of the patient is unknown. The note references the dead man's notes of Silent Hill 2 heavily.
Transcript
The doctors say that I'm unable to discern fantasy from reality... but I think I know what's going on around here. I saw those demons murder the other patients. I want to escape from this cursed place but I don't dare venture into the light.
It seems that they are attracted to light. That's why people who need light to see are their natural prey. They also react strongly to sound. If you want to go on living, you'd be better off just sitting in the dark and staying quiet. But even that probably won't save you.