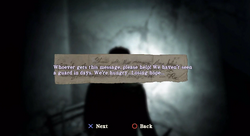 A Note From Ron is a memo found in Silent Hill: Homecoming on the wall of Cell B2 in the Overlook Penitentiary. The note is a plea for help due to the sudden vanishing of the guards, causing the prisoners to go hungry.
Transcript
Whoever gets this message, please help!
We haven't seen a guard in days.
We're hungry...Losing hope... Please help us! We're dying in here.
- Ron
Ad blocker interference detected!
Wikia is a free-to-use site that makes money from advertising. We have a modified experience for viewers using ad blockers

Wikia is not accessible if you've made further modifications. Remove the custom ad blocker rule(s) and the page will load as expected.