1F Surveillance Room Report
Talk

0
2,112pages on
this wiki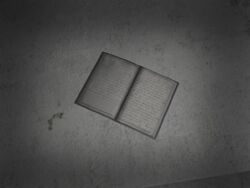 During Henry Townshend's visit in the Water Prison World, he finds the 1F Surveillance Room Report. It is found lying open on the desk of the first floor surveillance room.
Transcript
Lucky! I finally escaped from the cell.
I decided to take a careful look around this building.

The scariest place was the 1st floor basement. There's a kitchen in the
northeast, but next door in the northwest is a death chamber.
To get in there, you have to punch in the right numbers. I don't know the
numbers, and it was too dark to even see the panel, so I didn't go in.