A coin with a strange symbol
Description
"Toy coin with "1Ø" written on it. Maybe someone meant to write '1$'?"
Purpose
Retrieves the Murder Scene Key
Location
Lynch Street Line Platform, Subway World
Appearances
Silent Hill 4: The Room
The 1$ Coin is an item from Silent Hill 4: The Room. The coin is named so because the symbol is fictional and is most likely meant to resemble $1. Henry Townshend obtains the coin initially inside the northeast subway cars in the Lynch Street Line Platform of the Subway World. The coin is inside of a toy train that must be unlocked using a toy key; however, the coin is much too filthy to be used. After washing the filthy coin in his kitchen sink, Henry can use the coin to retrieve the murder scene key from the vending machine, which is marked with the same symbol as the coin.
The symbol on the coin may have been designed under the inspiration of the theory that the dollar sign was, originally, the number eight with a slash through it.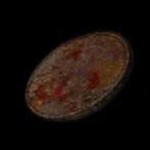 Ad blocker interference detected!
Wikia is a free-to-use site that makes money from advertising. We have a modified experience for viewers using ad blockers

Wikia is not accessible if you've made further modifications. Remove the custom ad blocker rule(s) and the page will load as expected.