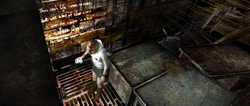 "Thus one's life turns to riches" is a memo found in the Otherworld One Stop Imports by Heather Mason in Silent Hill 3. It is located on the wall beside the vending machine and is intended to lure Heather into operating the vending machine with a silver coin she can pick up on the counter. From the vending machine, she will receive a soda can with a key inside, enabling her to continue her venture.
Transcript
"Thus one's life turns to riches:
What was a bag of silver coins is
now the number in a book.
Yet faith hath no price...
Ah, but do people know this?"
Ad blocker interference detected!
Wikia is a free-to-use site that makes money from advertising. We have a modified experience for viewers using ad blockers

Wikia is not accessible if you've made further modifications. Remove the custom ad blocker rule(s) and the page will load as expected.