Home
Talk

398
2,109pages on
this wiki
Welcome to Silent Hill Wiki


The encyclopedia for fans of Silent Hill that any stranger in town can edit.
2,109 articles since March 2006.
Note: Spoilers are to be expected and may be unmarked.
This wiki is not for fanon. Please visit Silent Hill Fandom Wiki instead.

About • Manual of style • Rules and guidelines • Blog policy • Recent changes • Forum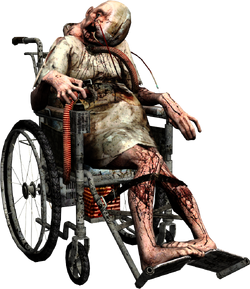 The Wheelman is the penultimate boss of Silent Hill: Downpour. This monster appears throughout the game in a much lesser form, cloaked in hospital garb, while taunting Murphy Pendleton. It is first seen by Murphy in the window of an abandoned house near Devil's Pitstop.
The Wheelman resembles a giant, emaciated corpse fused with a wheelchair and life-support machinery. The underside of the ribcage/stomach area is largely exposed and has numerous tubes and machinery plugged into it. It also has plentiful segments of wire and metal fused into its body. Its face is completely mutilated into a pulpy mass, with a horribly tumor-like growth on one half of its face and a single skinned eye on the other half. It has skinny, atrophied legs which seem to be tied to its wheelchair and can only be seen when it writhes in pain. Huge tanks of blood surround its environment, as well as clear fluids and gigantic air-pumps.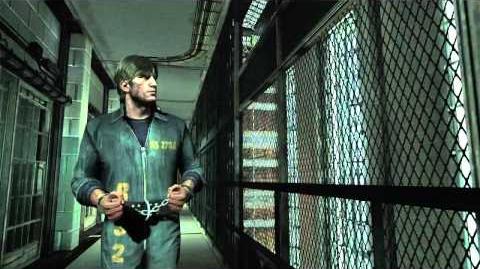 The Story Continued
Which of these Silent Hill games would you like to see the plot continued in?
To write a new article, just enter the article title in the box below.
Join the Chat
Loading RSS data...
Please read our policy before creating blogs.
Forum Activity
"Killin' a person ain't no big deal. Just put the gun to their head... pow!"
―Eddie Dombrowski, Silent Hill 2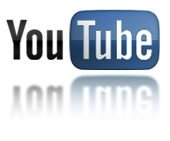 Some parts of this wiki may be considered violent or cruel.